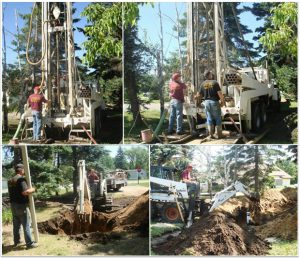 Problems with inconsistent water pressure from your well pump? Electrical troubles? Whatever the case, Ehresmann Water Wells will provide the solutions you need. In addition to knowledgeable well drilling services, we're the areas authority on pump troubleshooting, maintenance and repairs.
Well Drilling
Having a new well drilled? For well drilling, we are very familiar with the water table and can drill accurately on your land to ensure the best possible well depth. This ensures your well won't be subject to undue contamination and mineral deposits caused by improper drilling.
Well Repair
Thanks to our extensive backhoe and trenching abilities, we're ready to undertake well repair projects of any size, producing results that improve the integrity of your well.
Get Well Drilling
For well drilling done right and all of the benefits that come with a properly drilled and cased well, choose Ehresmann Water Wells. Contact our knowledgeable team today by calling 218-732-1945.